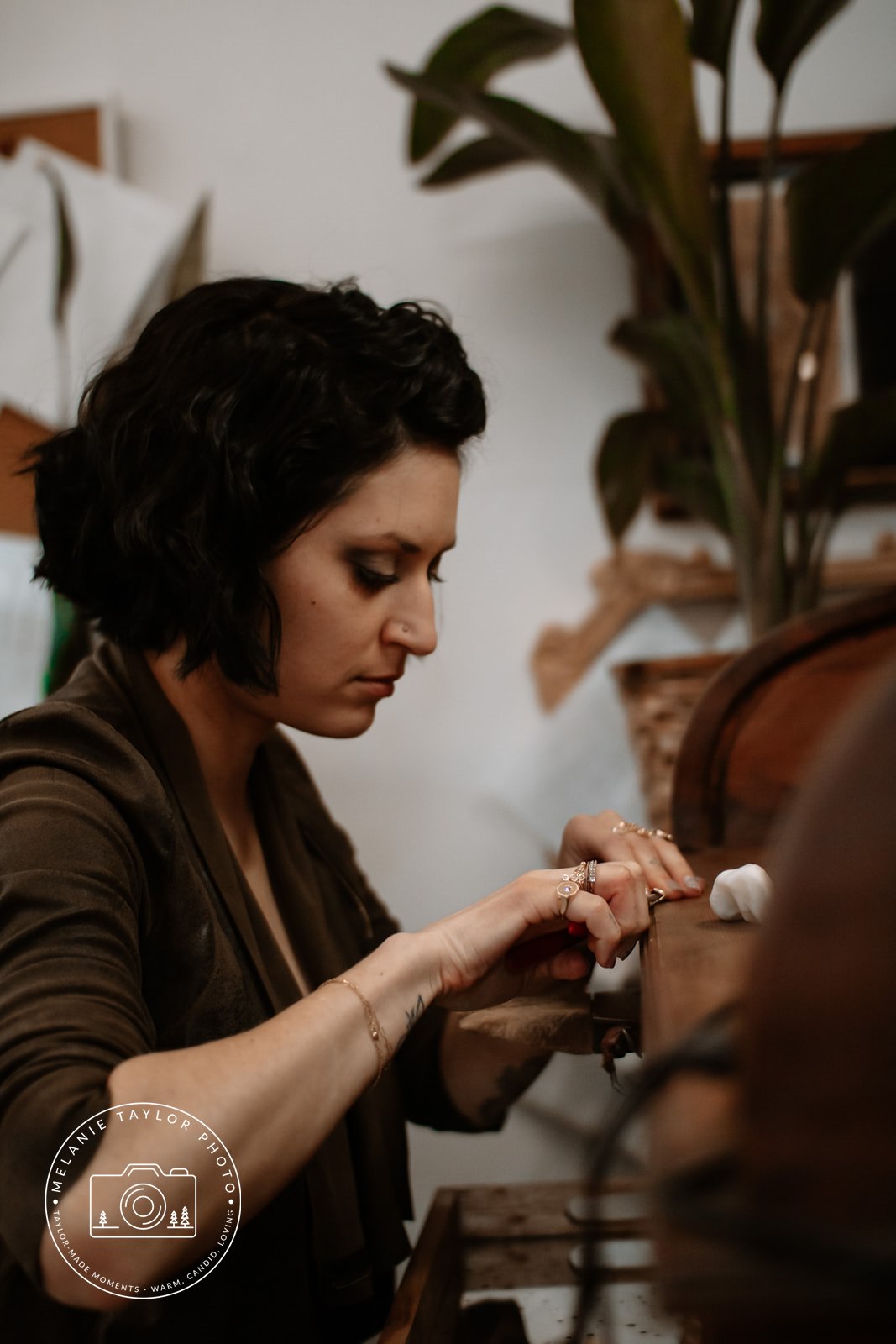 Nadia has a background in Fine Art.  She graduated with a Bachelors of Fine Art with a Studio Specialization from the University of Waterloo.  She specialized in painting, drawing and printmaking and has a strong background in Art History and Classical Studies.  She also graduated with honours from the three year Jewelley Arts program at George Brown College. 
She has worked in the retail side of the fine jewellery industry for over 10 years which gives her a strong background in custom bridal work.  From showing diamonds and gemstones and laying out designs, it was a short step to starting her own custom jewellery business.
Nadia's jewellery collection begins with each unique gemstone. After carefully selecting only the most unusual cuts and colours, she transforms each gem by encasing them in her own raw, edgy, angular handmade settings.  She enjoys using diamonds and gemstones like puzzle pieces to create contrast and structure in each little treasure.  Nadia's work is inspired by ancient civilizations like the Egyptians, Romans, Persians and South Americans which gives her work a raw yet edgy and bold feel.  Her work is also able to offer a feminine quality with delicate details, sparkling colours and a handmade touch. There is a regal quality to her work that fills the collection with an air of status and power. It is impossible to not take on some of that energy while wearing this work.
"I have always been fascinated with history, with civilizations that lived so long ago.
Their stories, their beliefs, their art. 
Colour always plays a part in this.  Colour in the art, in the jewellery these people created, the colours of the places they lived in, the way the colours of the land influenced the materials and architecture of their buildings, the flowers and plants that grow in the ancient ruins that we can still see today. 
As a child, the ancient Egyptians, Romans, Greeks and South American civilizations like the Aztecs and Incans always called to me.  The giant monuments they created amazed me not only for their size, but because they were always decorated.  They were painted, carved, filled with statues and sculptures, ornamentation of many kinds.
These civilizations also created decoration for themselves: jewellery.  They handmade pieces out of gold, silver and bronze and decorated them with precious, colourful gems.  They made treasures."
"When I was young, I remember digging through the jewellery boxes of my great grandmother.
I remember being drawn to pieces with big, bold, colourful stones.  I remember that they often looked worn.  My mom told me that it was because she loved and wore them so much.  I think that was something that resonated with me even at a very young age.  My work definitely has a feeling of being worn.  I like things to not look too perfect.  I like to leave hammer marks in the setting of some of my pieces.  I like textures and how pieces feel in your hands when you touch them.  I love gemstones.  I love their colours, the way they reflect the light (or don't).  When I sit down to design my pieces, I often end up moving stones around on my desk to see how they look together.  For me, the first step is always the stones.  The rest sort of falls into place after that. 
I like the thought that someday someone will be digging through their grandmother's jewellery box and find a treasure that my hands created.  I want to make treasures."